Objective and significance: –
Rebound hammer test is a Non Destructive test unlike cube compression strength test. It means test does not break any specimen to calculate strength of the hardened concrete. This test is rapid and very convenient to use. Schmidt hammer test is also another name of rebound hammer test.
Rebound hammer test is useful to find out compressive strength of the concrete
Its a non destructive test
It assesses uniformity of concrete
Helps to asses quality of concrete
Aim: –
To assess the likely compressive strength of concrete by using rebound hammer.
Apparatus: –
Rebound Hammer: – It consists of a spring controlled mass that slides on a plunger within a tubular housing.
| S. No. | Application | Approx. Impact Energy required for Rebound hammer (Nm) |
| --- | --- | --- |
| 1 | For Testing Normal Weight Concrete | 2.25 |
| 2 | For light-weight concrete or small and impact sensitive parts of concrete | 0.75 |
| 3 | For testing mass concrete for example, in roads, air field pavements and hydraulic structures | 2.25 |
Procedure: –
i) Before commencement of a test, the rebound hammer should be tested against the test anvil, to get reliable results, for which the manufacturer of the rebound hammer indicates the range of readings on the anvil suitable for different types of rebound hammer.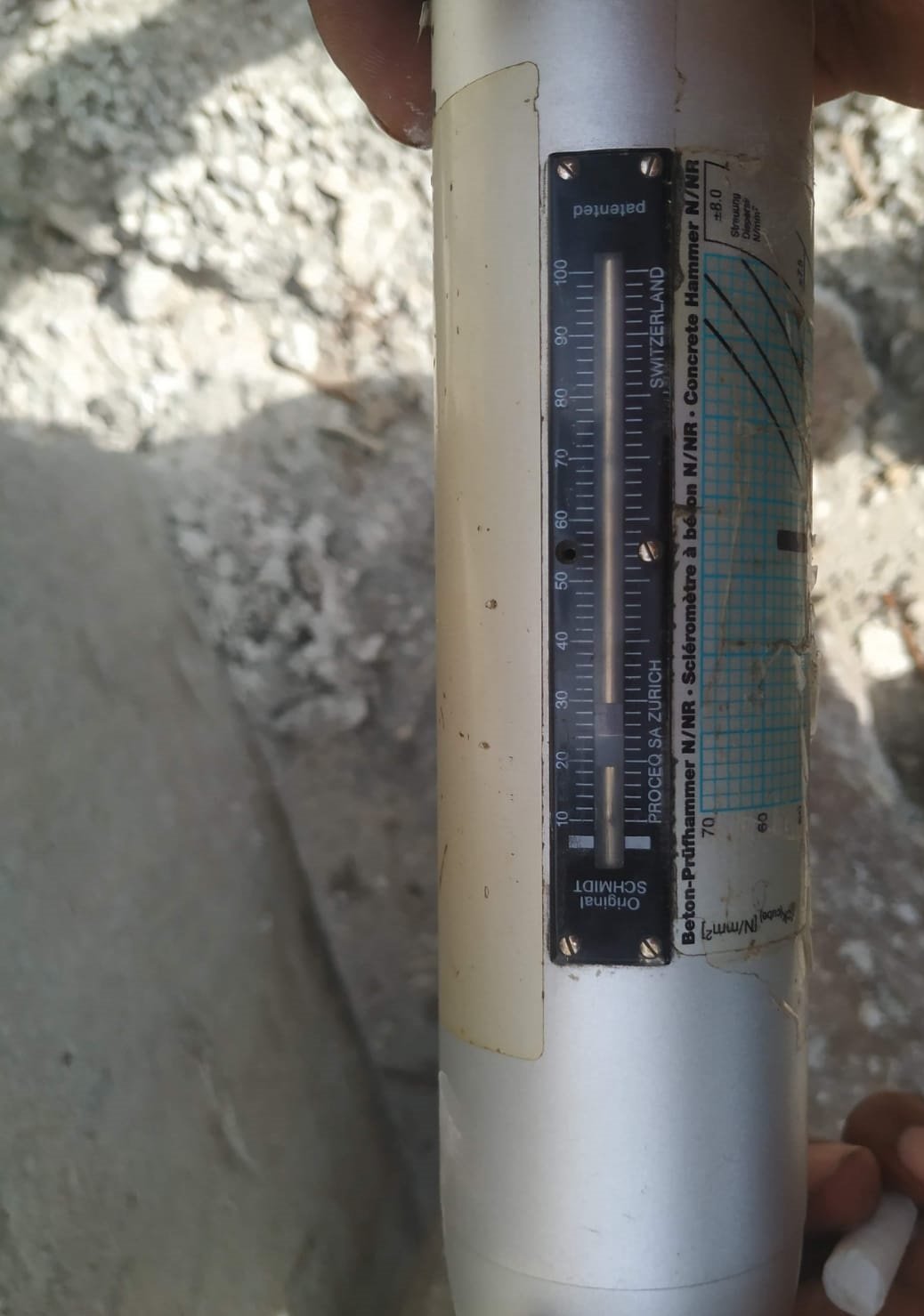 ii) Apply light pressure on the plunger – it will release it from the locked position and allow it to extend to the ready position for the test.

iii) Press the plunger against the surface of the concrete, keeping the instrument perpendicular to the test surface. Apply a gradual increase in pressure until the hammer impacts. (Do not touch the button while depressing the plunger. Press the button after impact, in case it is not convenient to note the rebound reading in that position.

iv) Take the average of about 15 readings
Interpretation of results:
| | |
| --- | --- |
| Average Rebound Number | Quality of Concrete |
| › 40 | Very Good |
| 30-40 | Good |
| 20-30 | Fair |
| <20 | Poor and/or delaminated |
| 0 | Very poor/or delaminated |