Types of Rebar: –
Rebar is classified with material used for production and it's further classifieds with it's applications.
1. Carbon Steel Rebar
Carbon steel rebar is the most common type of rebar used in residential and commercial projects. This alloy steel is exceptionally cost-effective and durable, but the carbon steel may not hold up well to projects with high moisture exposure. Using carbon steel rebar may be risky if you work with high moisture content or in high-humidity areas. Because Carbon Steel Rebar Rusts easily.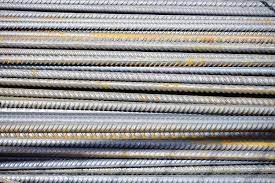 2. Stainless Steel Rebar
Stainless steel rebar is the most expensive reinforcing bar available. It is also the best rebar available for most projects. However, using stainless steel in all but the most unique of circumstances is often overkill. But, for those who have a reason to use it, stainless steel rebar 1,500 times more resistant to corrosion than black bar. it is more resistant to damage than any of the other corrosive-resistant or corrosive-proof types or rebar; and it can be bent in the field.
3. Galvanized Rebar
One of the more expensive options, galvanized rebar, is an alloy steel rebar dipped in a zinc solution to add a special water coating that can deter corrosion. This material is an excellent alternative to epoxy-coated rebar. Galvanized rebar is 40 times more resistant to corrosion and holds up better during shipping and installation. However, it is about 40% more expensive than epoxy-coated rebar.
4. Glass Fiber Reinforced Polymer (GFRP) Rebar
GFRP is made up of carbon fiber. As it is made up of fiber, bending is not allowed. It is very resistant to corrosion and is costly when compared to other rebars. Also known as fiberglass rebar, this material is perfect for projects that are exposed to water. Glass fiber rebar will never corrode and boasts a much greater tensile strength than traditional steel rebar. This specialized material also has non-conductive electrical properties.
5. Epoxy Coated Rebar
Epoxy-coated rebar works well in high-humidity and high-moisture construction projects. The rebar is coated with a thick epoxy, which helps to slow corrosion. Unfortunately, the delicate epoxy coating can become scratched and damaged during shipping, rendering the rebar much less effective against corrosion. The greater the damage to the coating, the less resistant to corrosion.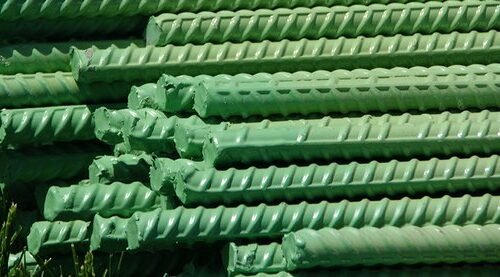 6.Welded Wire Fabric (WWF) Rebar
Although this type of material has a different kind of name than other standard rebar types, WWF rebar is actually a grid pattern made of welded low-carbon steel wire. The grid can help reinforce concrete slabs to improve the overall tensile strength of the concrete.
7. Expanded Metal Rebar
Similar to WWF rebar, expanded metal creates a metal mesh that is detailed in diamond-shaped lines. The mesh is made from a single steel sheet that is expertly cut and expanded. This material is commonly used when extremely thick plaster is needed to support the concrete. Expanded metal rebar is often used for sidewalks or walking surfaces, but it is not strong enough to withstand heavy vehicle traffic or heavy weights.