History
We are using steel as a reinforcement material for almost 100 years. Since then steel is the most important and one of the most expensive items in construction. Therefore in these 100 years, there are many innovations in the use, and application of steel is done. Optimum use of steel is preferred to avoid excessive construction costs. As we know steel rates are very high and very volatile, so avoiding wastage of steel is very necessary for construction. Lap splicing is a traditional and very common method for connecting the reinforcement rod. Lap splicing is considered a cheap and fast method for the connection of rod. But there are many problems in lap splicing as lap splicing actually get more time than coupler, excessive steel is used for connection and it needs more manpower,
A coupler is one of the inventions which is an advanced, safe & cheap method which can be used in steel reinforcement. The coupler can replace the conventional methods of splicing or lapping of steel.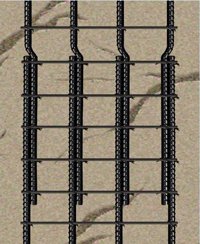 What is a coupler?
A coupler is a mechanical rebar connection that is used to join lengths of rebar together. The coupler is also known as mechanical splices.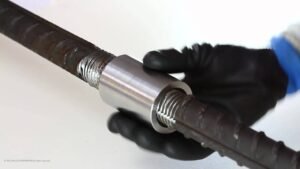 The mechanical rebar coupler avoids lap in reinforcement. Hence reduce the use of reinforcement steel use. Ease of use and more safe work make coupler a great replacement to the conventional lapping.
Benefits of coupler
The coupler system is very easy to use, one end of the rebar is fixed and another end of the rebar can be rotated and threaded. That's why it becomes very easy to use and application becomes very simple.
Reduces reinforcement used in the connection of rebar: –
Conventional lapping needs an extra length of rebar steel to lap the rebar. Generally for vertical lapping length of lap is considered in between 45d to 55d & for the horizontal connection, it is considered as 55d to 65d where "d" stands for the diameter of the connection bar. This extra length of the bar can be reduced by using couplers.
Conventional lapping needs much more time as it needs to bend the bar according to the diameter and then it has to connect with binding wire or with welding method. This time can be saved bu using a coupler as it just needs to fix the bar with threads.
Higher tensile strength than convention lapping: –
As steel perfectly connected in coupler it gives higher tensile strength than the lap splicing. The conventional rebar method gives a slicing effect in rebar hence reduces tensile strength.
Provides continuity and structural integrity:-
Rebar couplers achieve an ideal balance of steel and concrete by eliminating unnecessary rebar while providing greater structural integrity.
Hidden costs like labor requirements to bend the bar and connecting the bar, extra binding material like wire or welding can be reduced in the use of couplers.
Types of coupler: –
The Tapered Thread coupler is designed to suit the majority of applications that require the joining of reinforcing bars. The ends of the rebar are cut square and a tapered thread is cut onto the bar to suit the tapered thread coupler.
The sleeve is tightened onto the threaded bar end using a calibrated torque wrench.
Bartec Plus couplers provide a full-strength joint and are the smallest couplers in the Ancon range. They are particularly appropriate for applications where fatigue is an issue. The ends of the bars are cut square and marginally enlarged. A parallel thread is then rolled onto the ends to suit the threaded sleeve. The coupler is installed using a pipe or chain wrench. Calibrated torque wrenches are not required.